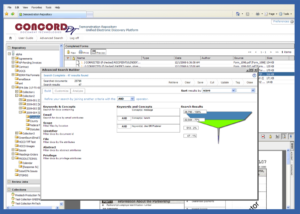 The Fastest Document Review Services Used By AmLaw 200, DOJ, & S.E.C — Processing and production have never been so effortlessly taken care of! All you have to do is call Concord at (800) 246-7881 and all your document storage and review problems will be solved. Concord has practiced integrity and great service with document management like other companies practiced thievery. Concord is simply not like the other document management solutions out there. We will never hold your record documents hostage for cash if you want to withdraw them. As a matter of fact, you can get a doc scan in minutes of whatever you need!
Our document reviews are also second to none. We have different budget programs for different client needs. So you are never paying for more than you need to in the first place. We offer services like hosted databases to easy to use online review tools and even online assisted attorney reviews.

Whether you need to access your document scans via computer or on the go, they are always secure with Concord. We literally use the same high-level encryption as financial institutions. Our document reviews are always accurate and frequently overseen by a professional or even a lawyer.

 SECURITY    –   FAST    –   ASSISTED REVIEW    –   MOBILE    –    EMAIL THREADING
Security And Accuracy First!
Even with that much encryption, we can still run a global network of document storage and review for your company. Don't let those other record document storage companies rip you off, either. Concord never holds your documents hostage for extra money. They are your's and you can withdraw them anytime you wish. It really is as simple as calling Concord at (800) 246-7881!   Need keyword searching enabled? That is no problem with Concord data review services. We always offer cost effective ways to review and reproduce documents for any occasion.