Private Placement Memorandums (P.P.M.) – Initial Public Offerings – Mergers and Acquisitions – Primary and Secondary – Offerings – SEC Filings – EDGAR – Proxy Statements and Cards – 10-Q – 8-K Filings – 20-F – 10-K Filings and Wraps – Bankruptcy – Bankruptcy Mailouts – Class-Action Suits- Fulfillment Printing – Managed Services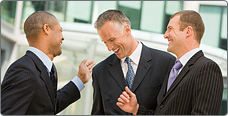 Financial service companies demand an impressive array of capabilities from their offset and digital print partners: size, speed, flexibility, experience and continuous quality. Exceptional service and integrated technologies are also vital.The complexity of issues is enormous. Long-standing relationships are good, and reliability and responsiveness can't be overlooked. But one particular trait can make a company stand out from all the others – innovation. Working with Concord means more than just working with an industry leader in offset and digital printing for the financial services industry. It means being introduced to smarter ways to work. Concord is constantly exploring new ways to improve results and lower expenses in handling your financial printing needs. Los Angeles, New York & San Francisco firms rely on Concord for financial printing.
Concord matches individual account holdings with the necessary compliance documents to create portfolio-specific booklets of regulatory disclosures, including prospectuses, prospectus supplements, annual and semi-annual reports, and other communications such as letters, reports and other marketing materials for policyholders or shareholders. As a result, Concord's clients print fewer pages, shorten print runs, store fewer books in the warehouse and worry less about obsolescence – and ultimately lower their costs. The customer experience is improved because they receive only the documents they need. And finally, workload is reduced, as Concord analyzes the optimal print runs (digital or offset) and document sizes for postal considerations.
Offset printing
Concord's history and core competency lies in print. We can produce practically anything put on paper to world-class standards. As a financial printer, we rank among the world's largest, with all the support services needed in all major financial markets. We handle regulatory and compliance documents of all sizes, quantities and standards, including bindery and finishing. From small 10-Qs to the largest, most sensitive cross-border merger and acquisition transactions, we deliver industry-leading compliance and transaction services.
Digital printing
Concord a regional leader in digital print and electronic content management. We help our clients produce more effective marketing collateral at greatly reduced obsolescence rates. With Concord's digital print services, clients gain direct access to our production facilities so that they can check in digital assets, search their digital content library and assemble custom documents "on the fly." The documents can then be printed digitally, combined with other inventoried collateral and shipped the same day.
 Financial printing done right … for the right price!
(800) 246-7881
Book Printing

Automated Print Management

Digital Asset Managment

Digital Content Distribution

eDelivery

Facilities Management

Interactive Solutions

Project Management & Workflow

Print Fulfillment

Digital Print
Financial Printing, Private Placement Memorandums (P.P.M.) Initial Public Offerings, Mergers and Acquisitions Primary Offerings, SEC, Bankruptcy Mailouts, Los Angeles, New York, San Francisco